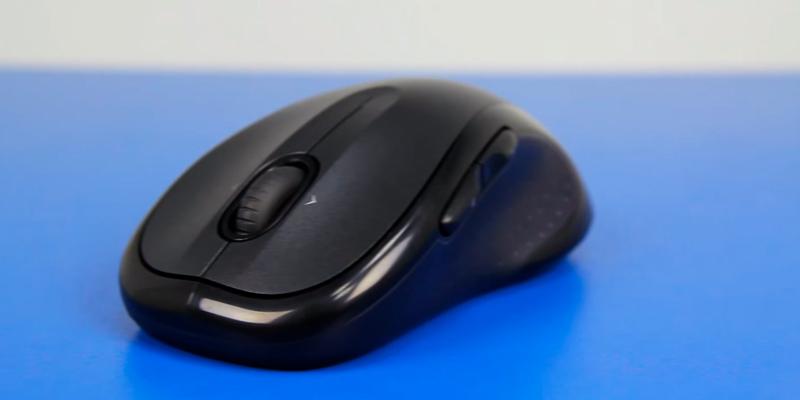 We chose Logitech M510  wireless computer Mouse first, for everyone looking for extra reliable and affordable mice.
This mouse is awesome, It is very comfortable and ergonomic, the battery power saving feature is masterful and works great, the smooth action and the ease of use are its top qualities.
It is the best wireless mouse for the majority, as it is affordable around $15-$20, good price-performance ratio, simply and easy to configure, comfortable with the majority hands shape, the size and shape is ideal for either left or right-handed use, not too tiny or too big, the buttons are easy to depress, the optical sensor feels smooth and rounded, the mouse tracks accurately and smoothly, with smooth scrolling.
The horizontal scroll feature is a little hard to activate but really that's a good thing, in case you were worried about bumping into them randomly, and the browser back and forward buttons are also perfectly difficult to press. With this mouse no more mis-clicks, the clicks are very confident and just feel right,
The wireless connection to the PC was flawless, It is perfect even for graphic design.
The functionality of the mouse is outstanding, We have been testing it for two years, with absolutely no issues, this mouse will not disappoint you.
Our second pick, for people who wants to spend more for a luxury professional mouse, it is the best option for people who use the mouse all the day, the mouse is very well worth the money, especially when you consider is can take the place of up to three ordinary mice, it is incredibly comfortable in all hands shape, it has a great weight to it, and feels really solid and sturdy, the variable mouse scroll style is really nice.
By clicking the button below the scroll wheel, it changes the mechanics of the scroll from smooth and seamless, to a notched system, it has six buttons that can be customized exactly how you want using the downloadable software on Logitech's website, it is very simple, elegant, and beautifully designed out software. The battery is rechargeable, and you can just plug a USB cable right into the mouse for charging, and will last 70 days on a single charge.
Perfect mouse for multi-computer users
Our third pick is logitech MX wireless mouse, it is great mouse with variety of feature. This mouse is a well-built and thoughtfully engineered, it is very comfortable, ergonomic, with non-standard design.
It suits perfectly from average to large hands, if you have large hand you will immediately feel better. It has great battery life, the mouse generally lasts almost a week before recharging it, and for light use it lasts about 3-4 weeks.
The darkfield laser is a must have if you use your mouse on non-standard surfaces, we like how you can use it on any surface without any issue, the placement of the forward, back and zoom buttons are perfect on this mouse, and it has more customizable buttons that can be assigned.
It has scrolling wheel with two different kinds which is great, the mouse scroll wheel can be switched from friction to free using the button by the wheel, and the rubber grip on scrolling wheel has just enough friction to allow you to scroll precisely so you don't need to apply pressure.
It does not have the side scroll feature, or the ability switch between bluetooth devices it you don't usually use multtiple devices, it won't be a big issue for you.
Overall, high quality mouse, with a fantastic sensor, and great design. It worth the purchase.
Also great :