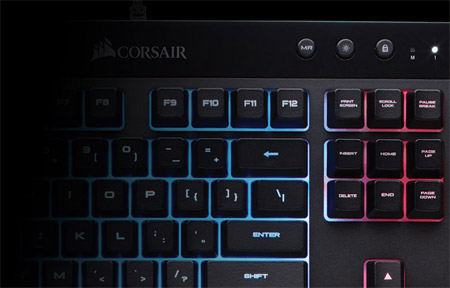 We chose first the K55 RGB GAMING Keyboard, for gamers and also for people who want to enjoy their typing, this will be the perfect compromise, the keys are responsive, the backlit lighting control is superb and  extensive, you can set the colors in 3 different areas individually in the left, the middle, and the right, as you can make it all one color, the macro keys on the far left work as intended,  the programmable keys on the left are great for some games that require multiple button pushes, and the media controls are easily accessible on the right.
This board is just the right size, and the tactile feel is great, it has six programmable keys in a vertical column, the LED performance on this is great, and the key feel is excellent, not a mechanical keyboard, but has a good feel to it, its quiet, and looks great if you're not sure where to start, we recommend tactile switches because they provide the best feedback for games and typing without making as much noise as clicky switches, all that for $50. This is a fantastic keyboard, especially considering the price.
Overall, at this price point you can't find anything better.
The second alternative is the Razer BlackWidow, it is mechanical keyboard with RGB backlighting, it is rock solid, and nice heavy metal case, fabulous keyboard which has sleek design, the coloring is just super cool, comfortable typing, and excellent tactile feedback, with incredible clicky sound, it sounds like one of those fast electric typewriters, the keys are in the right place,  the lighting is super nice, and it is  the fastest keyboard we have ever typed on, you can type around 70 words per minute. Typing will be truly a joy on this keyboard.
This keyboard has professional appearance, and convenient macro buttons, the lighting options are highly customizable and look amazing, for gaming, it is a very high quality extremely comfy support that really allows you to play for long time with no issues , the keys are extremely responsive and precise on the keyboard.
There are 5 macro keys that you can assign to any combination of keys that you want,  with this incredible keyboard no matter what you play will work flawlessly.
If you are looking for one of the best budget keyboard, go for our third choice which is Cooler Master MasterKeys S, it supports all the gamer features needed with affordable price.
This is a great mechanical keyboard for the price, it has the best use for typing, you will get more response every time, it feels much easier and more natural to type with, the sound of typing in this keyboard is quite nice, it makes quite a nice clicky sound, very satisfying clicking feel and sound, and exceptionally precise which is important for every gamer.
The build is really nice and sturdy, it has a solid hefty feel when you pick it up, it has No extra macro buttons or unneeded extra length, the MX Brown switches great for gaming, and even for the office work environment, they are less annoying and clicky than the Cherry MX Blue or Green switches, you won't get any mis-click while using it.
Moreover, it is the best keyboard you can get for purely typing without LED RGB madness.
This keyboard is made for gamers but you can use it in an office and it is perfect, we definitely recommend it for typists, as well as gamers.
You will love this keyboard, with all those features especially for the price point.